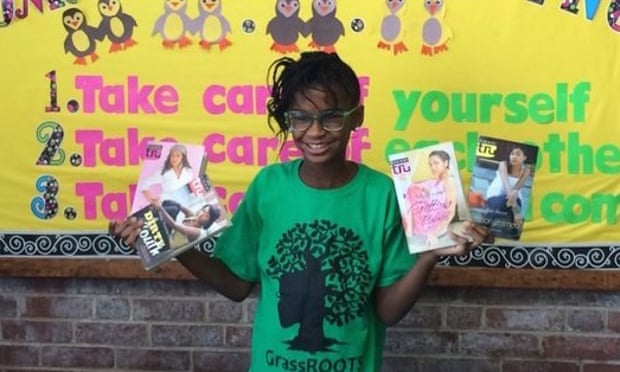 Marley Dias with some of her 1000 books
11-year-old Marley Dias, whose mother is from St. Mary, Jamaica, was frustrated with being given books to read about white boys and their dogs.
Her mother, Janice Johnson Dias, asked her what she was going to do about it, so in November, Marley, with the help of her mother, launched a drive to collect 1000 Black Girl Books.
At Stacked Books, author and blogger Kelly Jensen raised nearly $3,000 in donations to help "this fabulous girl collect the books she wanted to meet her goal", sending Dias a huge range of picture books, young adult titles and more.
Bookseller Barnes & Noble

also donated books to the drive, saying that "some books introduce us to characters who are different from us, allowing us to see the world from a new perspective. But for children in the process of figuring out who they are, and who they want to be, it is just as important to also read stories about characters they can relate to, and see themselves in."
Marley also appeared on

US chat show Ellen

, where she was given a laptop, and a cheque for $10,000 donated by Shutterfly.
By February 9, 2016, she had reached her goal.
This is an amazing achievement. Not only has Marley reached her goal, but she is also planning to donate the books to schools in the USA and to a library in St. Mary, Jamaica. I hope she will be coming in person to deliver these books and that she will get media coverage here.
Marley's drive highlights a problem. In the USA, where Kelly Jensen found that Black Girl Books were not as easily sourced, or prominently displayed as books about white children. When I first saw the hashtag "1000BlackGirlBooks", I assumed that there were 1000 different titles, but that does not seem to have been the case. Kelly's list included 45 picture books/early readers, 59 middle grade (8-12), 78 young adult (12-15), 16 Adult crossover, and 16 Graphic novels: total: 214.There was more than one copy of some books.
In Jamaica, where at least 92% of the population is of African descent, the books available in bookshops and libraries do not reflect that. The bookshops display prominently books by Enid Blyton (1897 – 1968) considered to be racist by some people; Nancy Drew books; The Hardy Boys books; and The Diary of the Wimpy Kid, which is an-easy-to-read comic in book form and highly culture-bound. They don't put Jamaican books on such prominent display (you have to search for them) and stock very few because, they say, "They don't sell." Who is buying these books? Mainly adults. Why are they not buying the Jamaican books? Because they don't know about them. Diane Browne has written repeatedly about the need for Jamaican children to see themselves in books, but as Curdella Forbes pointed out "Those who can afford to buy books have extensive options offered by the distributing giant Scholastic. With multiple outlets in the Caribbean, Scholastic leaves its local competitors far behind." For lists of books by Jamaican authors, see my blog posts, for 8-12 year-olds and for younger children.
The Jamaican Libraries, including school libraries, are mainly stocked by donations, so again the ethnicity and settings of these books don't reflect the majority of the population and the Jamaican culture.
To be fair to the educational system and Ministry of Education, Jamaican and Caribbean books, including novels, plays and poetry, are on school book lists and on the CSEC

syllabus.
Marley Dias is one in a million (many millions). I'm sure she won't mind us jumping on her band-wagon, and perhaps she will inspire Jamaican girls (and boys) to do something similar. But why is it, that up to now, children aren't asking for Jamaican books in book stores? Many of them never go into a book store or library. Of those who do, have they been brainwashed into thinking that there are no Jamaican authors and that only white people are heroes and heroines in books? And that it is more advantageous to have a white skin, hence the proliferation of bleaching? Perhaps Marley's drive can be a catalyst for change. Looking forward to hearing more about her.
Picture Books/Early Reader Title
Middle Grade (some are higher level and some lower)
Adult (with crossover appeal)